The Skarloey Railway Engine Sheds are the main sheds on the Skarloey Railway, where the narrow gauge engines and rolling stock of the line rest when not in use. The sheds are located at Crovan's Gate.
History
The Railway Series
When the sheds were first built, there was only a single track brick shed placed beside a yellow carriage shed. Agnes, Ruth, Lucy, Jemima and Beatrice were kept in the carriage shed, while Skarloey and Rheneas used the brick shed.
When Sir Handel and Peter Sam arrived, an open wooden shed was built beside the brick shed. Later on, a second track was added to the brick shed, making it a three-road shed. A brick wall was also built underneath the carriage shed.
The main workshops for the Skarloey Railway are located close by to the sheds, and are placed just beside the carriage shed on the left side. The workshop has four tracks running through it. Ivo Hugh was built at this workshop.
Television Series
The main engine sheds at Crovan's Gate were first introduced in the fourth season of the television series. The open wooden shed had two lines running through it, and the carriage shed became a brick shed; the smaller brick shed, however, was left almost entirely unchanged. The sheds were also much larger and taller than how they were in the Railway Series.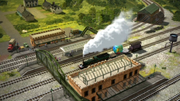 In the
eighteenth season
, the Crovan's Gate sheds reappeared. This time, they were significantly smaller, and the large yard that they were once placed in had been removed. The sheds was only made up of the small brick shed and the open wooden shed, and the narrow gauge railway ran right through them.
Other Sheds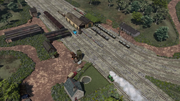 The Depot was first introduced in the
sixth season
of the television series, and replaced the engine sheds at Crovan's Gate. The sheds consist of a long two-track brick shed, a smaller, single track brick shed, and a two-road open wooden shed. The Depot is located close by to
Bluebell Valley Station
, and the
Bluebell Branch Line
passes by the shed.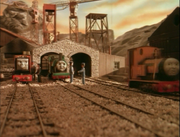 There was a two-road engine sheds located at Boulder Quarry, where the engines stayed in the
fifth season
. When Boulder Quarry was closed, so were the sheds.
Rheneas Sheds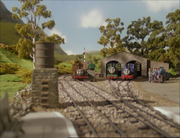 The station at
Rheneas
has a small two-road engine shed, which is occasionally used by the engines. Skarloey was unloaded from his flatbed at these sheds when he returned to the line after being mended.
Ad blocker interference detected!
Wikia is a free-to-use site that makes money from advertising. We have a modified experience for viewers using ad blockers

Wikia is not accessible if you've made further modifications. Remove the custom ad blocker rule(s) and the page will load as expected.